Onsite Engineers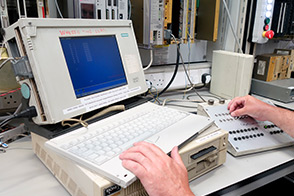 Do you have problems with your existing machines? Not sure where the problem is? Lektronix offer Onsite Support Services by sending an engineer to your site to assess and diagnose the problem.
Onsite Service Repair Process:
1. Contact Lektronix and request an Onsite Engineer.
2. Our Onsite Engineer travels to your site.
3. Our Onsite Engineer will inspect the machine and diagnose problem.
4. Our Onsite Engineer will either:

a. Repair the machine onsite if it is feasible
b. Remove the faulty part from your site and bring it back to Lektronix workshop for repair.
c. Where appropriate, offer advice or recommendations on next steps

5. If a repair is not economically feasible, you have the choice of a service exchange, supply, conversion or retro fit.
6. After the part is repaired the part will be returned to you. Alternatively our Onsite Engineer can deliver and fit the part for you.
*Outside of normal working hours additional costs apply.
Additional Onsite Services we provide are:
1. Annual machine backups
2. Safety Updates
3. Performance adjustments
* All services are subject to site survey
Contact Lektronix today for a free quotation or to book an Onsite Engineer
What Are The Benefits?
State of the Art Workshops
Our workshops and custom built test rigs have the latest technology.
Experienced Engineers
Our highly skilled engineers are equipped to repair a broad range of parts.
International Sales Team
Speak to one of our sales representatives in your language.
12 Months Warranty
All our repairs and spares come with 12 months whole of unit warranty.