Electronic Repairs by Lektronix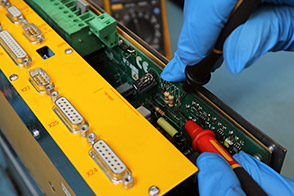 Lektronix specialise in repairing electronic equipment. We can repair over 200,000 different electronic parts from more than 7,000 manufacturers. No matter what the make or model, or who manufactured the part we can repair your electronic automation parts!
All of our state of the art workshops and experienced engineers are fully equipped to diagnose faults and repair your electronic parts. We have custom build test rigs to fully functionally test your equipment* to give you the added reassurance your part will be returned in working order. We are confident in the service we provide to our customers and as such all our repairs come with FREE 12 months whole of unit warranty. This means we'll refurbish the whole unit and not just repair the original fault!
By choosing a repair versus a new replacement not only are you extending equipment life as well as increasing sustainability you also save money. Repair generally produces savings of up to 50%.

Electronic Repair Services
We provide electronic repairs for the following product categories. To learn more about each electronic repair service, click on the relevant link:
How does the Electronic Repair service work?
Lektronix follows a rigorous and thorough repair procedure to ensure your equipment is repaired to a high standard and returned to you as soon as possible.
The Repair procedure is as follows:
STEP 1: Collection of the item to be repaired from your premises.
STEP 2: Thorough cleaning of equipment to remove any possible contamination.
STEP 3: Diagnostic testing to locate defective components (the entire unit is checked even if the problem is identified during the early stages).
STEP 4: Circuit analysis on all electronic products to isolate marginal components.
STEP 5: Replacement of defective and marginal components with parts that meet or exceed original specifications.
STEP 6: Verification of total circuit board quality using state-of-the-art automated testing equipment.
STEP 7: Packing and shipping of repaired equipment. Repaired equipment is protected by a FULL 12-month warranty covering the entire unit, not just the repaired components.
Electronic Engineers
Our experience electronic engineers repair all makes and models.
Electronic Workshop
Our state of the art electronic workshop is designed to meet all our customers repair needs.
Custom Built Test Rigs
At Lektronix, we have a huge array of custom build test rigs to fully functionally test your equipment.
General Electronics
Many of our customers want a comprehensive service to deal with all of their industrial electronic repair needs. This includes PSU, PCB, Process Control Instrumentation and Test Instrumentation as well as General Electronics. Lektronix has risen to this challenge by diversifying into many other areas and gaining the necessary skills enabling us to offer this service with confidence.
What Are The Benefits?
State of the Art Workshops
Our workshops and custom built test rigs have the latest technology.
Experienced Engineers
Our highly skilled engineers are equipped to repair a broad range of parts.
International Sales Team
Speak to one of our sales representatives in your language.
12 Months Warranty
All our repairs and spares come with 12 months whole of unit warranty.
Call Us:
Or
Request a callback today and we will call you back shortly